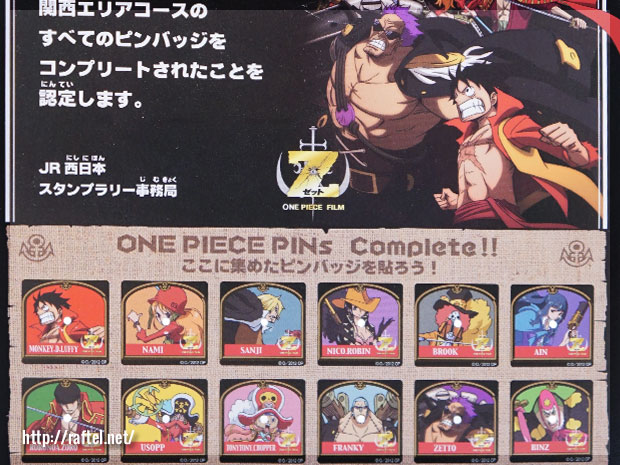 Stamp Rally – JR West – One Piece Film Z Pin badges
A complete set of 12 pin badges and certificate from the JR stamp rally, which was held on the weekends from 17th Nov. to 16th Dec. 2012, and everyday from 22nd Dec. to Jan. 6th 2013.
A Stamp rally is an event where people go around to different locations to stamp their book or a rally sheet with rubber stamps. Each location has a different stamp. Once the book or rally sheet is complete, usually you can win a small prize. Stamp rallies are held all over Japan, at Museums, Train stations, National monuments etc.
ワンピースJR西日本スタンプラリーピンバッチ全12種と完走認定書。
「ワンピース・スタンプラリー2012」の実施期間は、11月17日から12月16日までの土日祝日と、12月22日から2013年1月6日までの毎日。
Summary
Event
​
Stamp Rally - JR West - One Piece Film Z Pin badges
Starting on
Ending on