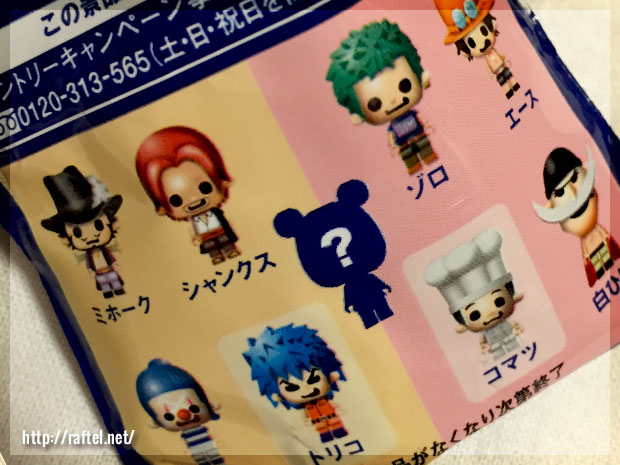 One Piece x PansonWorks Block Collection – Natchan 2
These small non-sale collectible figures are the 2nd set of One Piece (& Toriko) and PansonWorks collaboration figures given away with bottles of the Suntory Orange and Apple fruit juice drink Natchan.
The body of the figures are blocks, and the arms and legs are moveable.
The 2nd Block Collection of 11 + 1 secret figures campaign is to celebrate the release of both "Toriko 3D Gourmet Adventure" and "One Piece 3D Straw Hat Chase" moves on March 19th, 2015.
Natchan Orange comes with one of the Sanji, Shanks, Mihawk, Buggy and Toriko figures.
Natchan Apple comes with one of the Chopper, Zoro, Ace, White beard and Komatsu figures.
Both Natchan Orange and Apple comes with one of the Luffy and the 'Secret'Pandaman figures.
Size of figures: about 4.5cm
Date sold: From February 15th 2011 at convenient stores
* The packages with the figures have not been opened
ワンピース&トリコ ブロックコレクション 第2弾 なっちゃんオンパックキャンペーン 全12種セット(11種+シークレット1種)
サントリー「なっちゃん オレンジ」・「なっちゃん りんご」470mlペットボトルのオンパックキャンペーン非売品、「ワンピース&トリコ」と話題の「パンソンワークス」のコラボレーションフィギュアの第2弾!!
手と足を動かせるブロック型キャラクターフィギュア!
第2弾は「トリコ 3D 開幕!グルメアドベンチャー!!」と「ONE PIECE 3D 麦わらチェイス」映画記念(2011年3月19日)でワンピースとトリコのキャラクター全12種が登場。
「なっちゃんオレンジ」には サンジ、シャンクス、ミホーク、バギー、トリコ。
「なっちゃんアップル」にはチョッパー、ゾロ、エース、白ひげ、コマツ。「なっちゃん オレンジ」・「なっちゃん りんご」の共通キャラクターがルフィとシークレットのパンダマンになります。
サイズ:フィギュア部分/長さ約4.5cm
発売: 2011年2月15日(火)~コンビニ限定
※商品はパッケージ未開封です。
Summary
Reviewer
Review Date
Reviewed Item
One Piece x PansonWorks Block Collection - Natchan 2
Author Rating