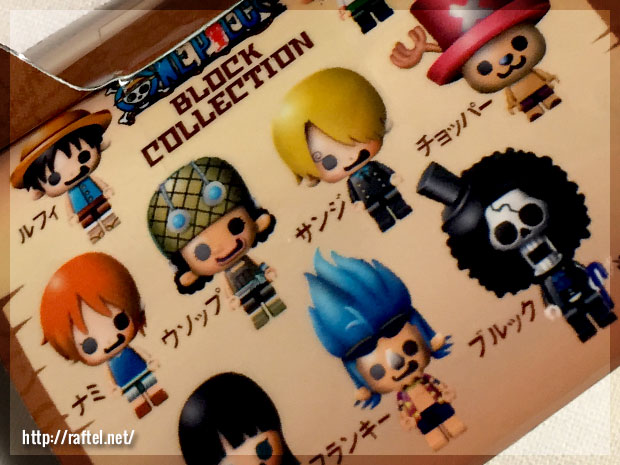 Natchan One Piece x PansonWorks Character Block Collection Phone Straps
These small collectible figures are One Piece and PansonWorks collaboration figures given away with bottles of the Suntory fruit juice drink Natchan.
The body of the figures are blocks, and the arms and legs are moveable. These are the first One Piece collaboration block figures to have moveable parts.
The complete set of 9 figures are of Luffy, Zoro, Nami, Usopp, Sanji, Chopper, Robin, Franky and Brook.
Size of figures: about 4.5cm
Date sold: From March 30th 2010 at convenient stores
* The packages with the figures have not been opened
なっちゃん ワンピース×PansonWorks キャラクターブロックコレクションストラップ
サントリーなっちゃんオンパックキャンペーン品、「ワンピース」と話題の「パンソンワークス」のコラボレーションフィギュア。 ボディの部分はブロック型で、手と足を動かす事が出来ます!ワンピースコラボグッズの中でも初となる、可動式ブロックフィギュア。
モンキー・D・ルフィ、ロロノア・ゾロ、ナミ、ウソップ、サンジ、トニートニー・チョッパー、ニコ・ロビン、フランキー、ブルックの計9種。
サイズ:フィギュア部分/長さ約4.5cm
発売: 2010年3月30日~コンビニ限定
※商品はパッケージ未開封です。

Summary
Reviewer
Review Date
Reviewed Item
Natchan One Piece x PansonWorks Character Block Collection
Author Rating