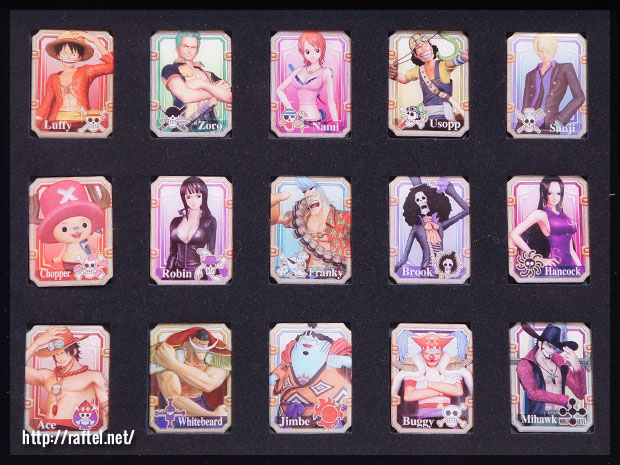 One Piece Kaizoku Musou Pin Badges
This is a collection of 15 pin badges included in PS3 One Piece Kaizoku Musou Treasure Box set.
Characters:
Luffy, Zoro, Nami, Usopp, Sanji, Chopper, Robin, Franky, Brook, Hancock, Ace, Whitebeard, Jimbe, Buggy and Mihawk.
The game was released on March 1, 2012 in Japan.
The collectors edition includes 9x Original custom theme download codes, Rare figure code for the social game, a visual art book based on the game and an origintal Soundtrack CD.
PS3 ワンピース 海賊無双 Treasure Boxコレクションピンバッチ
PS3ソフト ワンピース 海賊無双 Treasure Boxの特典に、コレクションピンバッチ全15種類です。
ピンバッジのキャラクター:
ルフィ、ゾロ、ナミ、ウソップ、サンジ、チョッパー、ロビン、フランキー、ブルック、ハンコック、エース、白ひげ、ジンベエ、バギー、ミホーク。
発売日: 2012/3/1
その他の特典::オリジナルカスタムテーマ9種DLコード、ソーシャルゲーム専用レアフィギュア用コード、『ワンピース 海賊無双』設定&ビジュアルブック、オリジナルサウンドトラックCD
Looking for One Piece badges?
Summary
Reviewer
Review Date
Reviewed Item
One Piece Kaizoku Musou Pin Badges
Author Rating