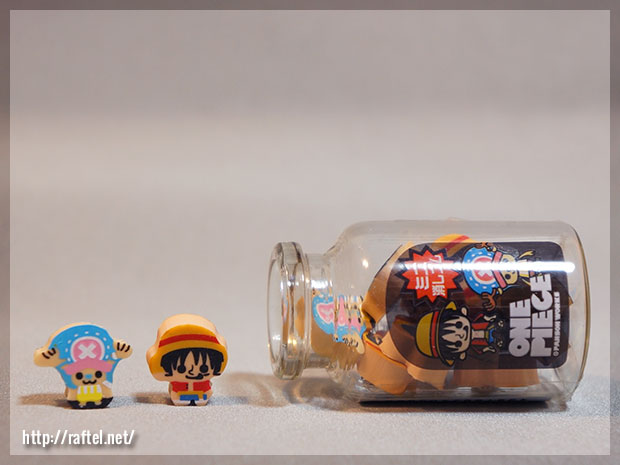 One Piece mini erasers – Luffy and Chopper
A small jar filled with cute little Luffy and Choppers.
I wonder if this is KeshiKeshi (Gomu) no Mi?
('Keshi gomu' meaning Eraser in Japanese)
Bottle size: height ~60mm, diameter 30mm
Erasers: about height 15mm x width 13mm
Remove the mini Luffy and Choppers from the bottle and line them up! There are 7 mini Luffy and 7 mini Choppers in the cute little bottle.
It will be a waste to use them!!!
ルフィ&チョッパー 小ビン入り消しゴム 「ワンピース×パンソンワークス」
One Piece Panson Works バージョンミニ消しゴムです。小瓶入りにルフィとチョッパー2種類のかわいいミニ消しゴムが入っています。
これはケシケシ(ゴム)の実かな?
小ビン:約H60×Φ30mm
消しゴム:約H15×W13mm
瓶から出してミニルフィとチョッパー並べたりできる!ミニルフィとチョッパーは各7個計14個入り。
使うのがもったいない!!!
Looking for One Piece erasers?
Summary
Reviewer
Review Date
Reviewed Item
One Piece mini erasers - Luffy and Chopper
Author Rating