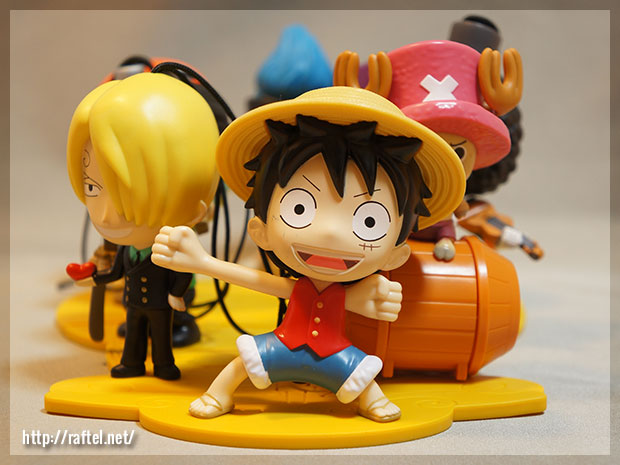 Happy Meal McDonald's One Piece Toys – 2013 China
2013 One Piece Limited Edition McDonald's Happy Meal Toys given away in China and Hong Kong.
Complete set of 9 characters. Luffy, Zoro, Nami, Usopp, Sanji, Chopper, Robin, Franky and Brook.
Each character's bases assemble into Thousand Sunny.
I have included below the Japanese and Chinese names (there are different Chinese characters for China, Hong Kong, Taiwan languages) for the Straw Hat Pirates.
マクドナルド ハッピーセットのワンピースおまけ
2013年、中国と香港マクドナルド ハッピーセットのワンピースおまけです。
全部で9種類、ルフィ、ゾロ、ナミ、ウソップ、サンジ、チョッパー、ロビン、フランキーとブルーク。
各キャラクターのベース部分はパズルのように組み合わせます。キャラクター達を外すと、サウザンド・サニー号の絵が見えます!
ちなみにワンピースの中国語キャラクター名(中国、台湾、香港では違う漢字を使われてるよう):
ワンピース =>  航海王
麦わらの一味 => 草帽海贼团
モンキー・D・ルフィ => 蒙奇·D·路飞 / 蒙奇·D·鲁夫
ロロノア・ゾロ => 罗罗诺亚・索隆 / 罗诺亚・卓洛 / 罗罗诺亚・佐罗
ナミ => 娜美 / 奈美
ウソップ => 乌索普 / 骗人布 / 撒谎布
サンジ => 山治 / 香吉士 / 香吉 / 山智
トニートニーチョッパー => 托尼·托尼·乔巴 / 多尼多尼·乔巴
ニコ・ロビン => 妮可·罗宾 / 妮古·罗宾
フランキー => 弗兰奇 / 福兰奇 / 弗朗基
ブルーク => 布鲁克
サウザンド・サニー号 => 万里阳光号 / 千阳号 / 萨乌森·桑尼号
Looking for One Piece happy meal toys
Summary
Reviewer
Review Date
Reviewed Item
Happy Meal One Piece Toys
Author Rating